Already plenty to do, so come on over.
The Rossport Solidarity Camp is setting up this year for one special week from 21st -30th of June.

On June 1st we are planning to begin building the camp in earnest and will need plenty help all through June to get set up.
Preparation on the ground has been already begun, and if you are available to help out between now and then, there is plenty to do.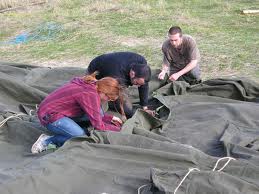 Sorting out the marquees
Already there is work to do in:
Carving wind turbine blades
Sorting through and repairing marquees
Sorting through and preparing kitchen equipment
Repairing and building tables, counters, compost toilets.                       .. and much more.
No experience necessary – camping space is available but there's no kitchen set up yet but so volunteers would have to self-cater.
If you have a few days to spare why not swing over to the Aughoose see what's going on and lend a hand to a good cause.
The nearby Kilcommon Lodge holiday hostel is also open – check here for rates and availability:
Kilcommon Lodge
Pullathomas, Belmullet,
Co. Mayo, Ireland
info@kilcommonlodge.ie
(+353).(0)97.84621
For more info or to let the people already there know you are coming, ring the camp phone on 085 1141170 for more info, or email rossportsolidaritycamp@gmail.com.
See you in Mayo!